Submitted by
Anastasiia Mykytenko
on 26/12/2020 - 19:52.
Christmas is just around the corner! (In Ukraine, we celebrate Christmas on January, 7). Let's meet this holiday with the best Christmas treats. These dishes will make your traditional Christmas dinner truly international.
 
Christmas Stollen
The hallmark of the Christmas holiday is a rich, dense, sweet bread filled with dried fruit, candied citrus peel, marzipan or almond paste, and nuts. It hails from the city of Dresden, Germany, where it was first baked in the late 1500s. Let's cook it together.


Ingredients
- 1 tablespoon active dry yeast
- ⅔ cup warm milk (110 degrees F/45 degrees C)
- 1 large egg
- ⅓ cup white sugar
- ½ tablespoon salt
- ⅓ cup butter, softened
- 2 ½ cups bread flour
- ⅓ cup currants
- ⅓ cup sultana raisins
- ⅓ cup red candied cherries, quartered
- ⅔ cup diced candied citron
- 6 ounces marzipan
- 1 tablespoon confectioners' sugar
- ¼ teaspoon ground cinnamon
Directions
Step 1
In a small bowl, dissolve yeast in warm milk. Let stand until creamy, about 10 minutes.
Step 2
In a large bowl, combine the yeast mixture with the egg, white sugar, salt, butter, and 2 cups bread flour; beat well. Add the remaining flour, 1/4 cup at a time, stirring well after each addition. When the dough has begun to pull together, turn it out onto a lightly floured surface, and knead in the currants, raisins, dried cherries, and citrus peel. Continue kneading until smooth, about 8 minutes.
Step 3
Lightly oil a large bowl, place the dough in the bowl, and turn to coat with oil. Cover with a damp cloth and let rise in a warm place until doubled in volume, about 1 hour.
Step 4
Lightly grease a cookie sheet. Deflate the dough and turn it out onto a lightly floured surface. Roll the marzipan into a rope and place it in the center of the dough. Fold the dough over to cover it; pinch the seams together to seal. Place the loaf, seam side down, on the prepared baking sheet. Cover with a damp cloth and let rise until doubled in volume, about 40 minutes. Meanwhile, preheat the oven to 350 degrees F (175 degrees C).
Step 5
Bake in the preheated oven for 10 minutes, then reduce heat to 300 degrees F (150 degrees C), and bake for a further 30 to 40 minutes, or until golden brown. Allow loaf to cool on a wire rack. Dust the cooled loaf with confectioners' sugar, and sprinkle with the cinnamon.

Cinnamon Stars
Star is one of the Christmas symbols. It represents the star that appeared in the sky after Jesus was born, which then led the Three Wise Men to visit him in Bethlehem. It also reminds Christians to follow Jesus like their own guiding light.

Make a treat for your tea- or cocoa-time to spend a cozy evening with friends. Such star-shaped cookies can be a wonderful Christmas tree decoration also.
Ingredients

- 2 ⅔ cups finely ground almonds
- 1 tablespoon ground cinnamon
- 1 teaspoon lemon zest
- ⅓ cup egg whites
- ⅛ teaspoon salt
- 2 ½ cups confectioners' sugar
- 1 ¾ teaspoon lemon juice
Directions
Step 1
Stir together the almonds, cinnamon, and lemon zest until combined.
Step 2
Beat the egg whites and salt until soft peaks form. Slowly sift in the confectioner's sugar, continuing to beat until the mixture is stiff. Set aside 1/3 cup of the egg white mixture for the glaze. Fold in the almond mixture.
Step 3
Preheat the oven to 325 degrees F (170 degrees C). Line the cookie sheets with parchment paper.
Step 4
Roll the dough to 1/4 inch thickness on a surface that has been sprinkled with confectioners' sugar. Using a 2 1/2-inch star cookie cutter, cut out the cookies and place them on the cookie sheets.
Step 5
To make the glaze, add the lemon juice to the reserved egg white mixture, stirring until smooth. Brush the tops of the cookies lightly with the glaze. (If the glaze starts to thicken, add a few more drops of lemon juice.)
Step 6
Bake for 20 to 25 minutes. When done, they will be light brown and soft in the center. Remove and cool on wire racks.
Yorkshire Pudding
What can bring a little European spirit to your Christmas dinner? Of course, pudding. Light, delicate and definitely tasty!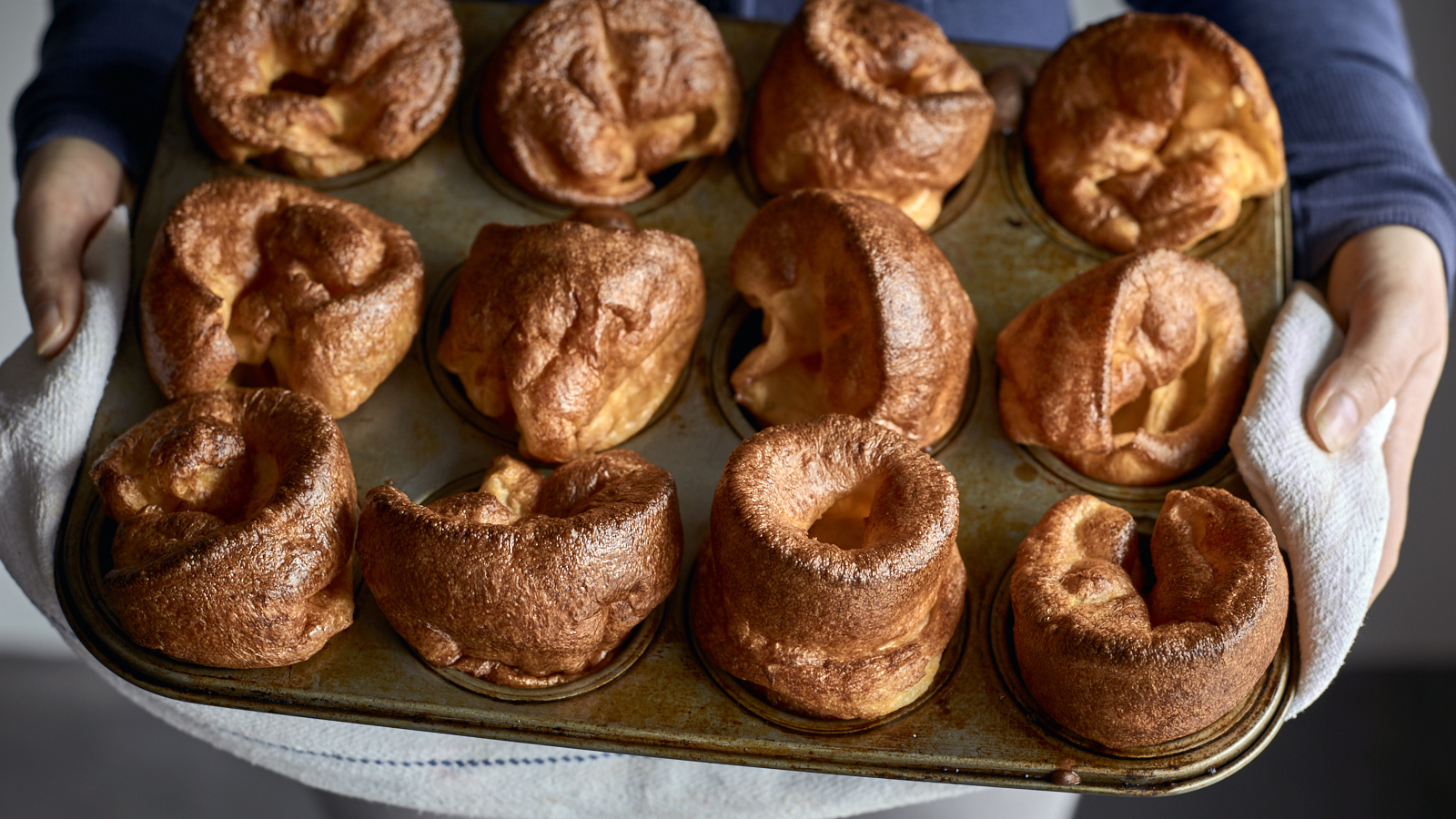 Source: BBC
Ingredients
- 2 tablespoons olive oil
- 3 eggs
- 2 egg whites
- ½ cup milk
- 1 cup all-purpose flour
- 2 tablespoons cold water
Directions
Step 1
Preheat the oven to 450 degrees F (230 degrees C). Drop 1 teaspoon olive oil each into 6 muffin cups.
Step 2
Beat eggs, egg whites, and milk together in a glass bowl until smooth.
Step 3
Heat egg mixture in microwave oven until warmed, about 1 minute.
Step 4
Stir flour into the egg mixture until completely incorporated into a batter.
Step 5
Heat muffin cups in a preheated oven until the oil is smoking, 2 to 3 minutes.
Step 6
Stir cold water into the batter. Pour 1/4 cup batter into each muffin cup.
Step 7
Bake in the preheated oven until risen and cooked in their centers, about 25 minutes.
 
Poppy Seed or Polish Makowiec


A symbol of wealth and prosperity, poppy seeds are largely used in baking because their consumption is associated with a bright future. Polish makowiec is one of the most famous and beautiful to look at when sliced. Let's make it together!


Source: wszystkiegoslodkiego.pl

Ingredients
For the Poppy Seed Filling:
- 1 pound (450 g) poppy seeds 
- 1 cup sugar
- 3/4 cup butter 
- 1 cup milk (hot)
- 1 tablespoon lemon zest
For the Dough:
- 1 packet dry active yeast
- 2 cups milk (warm; divided)
- 8 cups all-purpose flour
- 3/4 cup sugar
- 1 teaspoon salt
- 5 large eggs (room temperature)
- 1 cup butter (melted; divided)
Make the Poppy Seed Filling
Step 1
Gather the ingredients.

Step 2
If grinding the seeds from scratch, place half of the poppy seeds in a coffee, seed, or spice grinder or in your food processor, without overcrowding. Process until the seeds have released some of their oil; pulse at high speed a few times. Repeat the process until all of the poppy seeds have been processed. Reserve.

Step 3
In a medium bowl, combine the sugar, butter, milk, and lemon zest. Beat well.

Step 4
Add the ground poppy seeds to the butter mixture, stir well to combine, and set aside.

Make the Dough
Step 1
In a small heatproof bowl, dissolve the yeast in 1/2 cup of the warm milk.
Step 2
In the bowl of a stand mixer or another large bowl, combine the flour, sugar, salt, eggs, the remaining 1 1/2 cups of warm milk, 1/2 cup of melted butter, and the yeast mixture.
Step 3
With the paddle attachment, or by hand, beat until smooth. The dough should be sticky at this point.
Step 4
Scrape the dough into a clean greased bowl. Sprinkle the top with a little flour and cover. Let stand in a warm place for 1 hour or until double in size.
Shape the Rolls and Bake
Step 1
Punch down the dough and turn it out onto a floured surface. Prepare two baking trays, layering them with parchment paper or a silicon mat.
Step 2
Divide the dough in half and shape each half into a rectangle.

Step 3
Spread half of the filling onto each half of the dough.

Step 4
Roll each rectangle up like a jelly roll.
Step 5
Tuck the ends of each roll under so the filling will not leak out.
Step 7
Place the rolls on the prepared trays. Cover with a clean kitchen towel and let rise again until double in size.
Step 8
Preheat the oven to 350 F (175C). Brush the tops of the rolls with the remaining melted butter.
Step 9
Bake for 45 to 60 minutes, or until rolls are golden brown. Remove the rolls from the oven and cool.
Gingerbreads
Making gingerbread is still a way of celebrating Christmas in many families. They are built traditionally before Christmas using pieces of baked gingerbread dough assembled with melted sugar.

You will be able to cook the most delicious gingerbreads if you make them with loved people. An atmosphere of love and comfort, heartfelt conversations - this is the best addition to the recipe. So get together with a dear person and bake these wonderful cookies.


Ingredients
200 ml brown syrup or honey
150 ml (brown) sugar
250 g butter
2 eggs
1000 ml flour
3 tablespoon gingerbread spice
( or mix 1 part grounded ginger, 1 clove, 1  cardamon, 1 cinnamon, and 0,3 part spice,  0,3 black pepper, grated orange peel)
- 2 teaspoon soda
- 2 tablespoon cacao. You can add more. Cacao gives colour and bitterness.
- Optional: 1/2 orange juice and grated peel
 
Directions
Step 1
Heat syrup (orange juice and peel) and sugar, while sugar is melted. Add butter and melt it in hot syrup.
Step 2
Let syrup cool down
Step 3
Whip eggs and add flour with spices
Step 4
Mix together syrup and flour. Knead the dough until the bowl is " clean", and dough separates from the bowl
Step 5
Sprinkle the dough with flour and roll into a food film.
Step 6
Let the dough to set at least 1 day in the fridge
For Baking
Step 1
Fold the dough with the palm-size pieces and knead it while it is elastic.
Step 2
Roll dough to 2-3 mm and form cookies.
Step 3
Bake in the oven 180 C, ca 8 minutes.
Step 4
Glaze, mix 1 egg white with 100 g icing sugar (or more, it depends on egg size)


Hot chocolate
 
No such thing as too much chocolate to chocolate lovers. You can have fun with the toppings. Homemade hot chocolate is infinitely so chocolatey, it's perfect for chocolate lovers at Christmas time!
Ingredients
2 cups whole milk
1/4 cups granulated sugar
2 tbsp. cocoa powder
1 cups chocolate chips (or chopped chocolate)
1 tsp. vanilla extract
Whipped cream, for serving
Chocolate shavings, for serving
Directions

Step 1
In a small saucepan over medium heat, bring milk to simmer. Whisk in sugar and cocoa powder and stir until no lumps remain. Stir in chocolate chips and vanilla and cook, stirring occasionally, until chocolate is completely melted. Turn off the heat.
 
Step 2
Pour hot chocolate into mugs, then top with whipped cream and chocolate shavings.
We wish you to be happy with your family and loved ones on this Day of light, love, and joy. 
Author: Oksana Krit